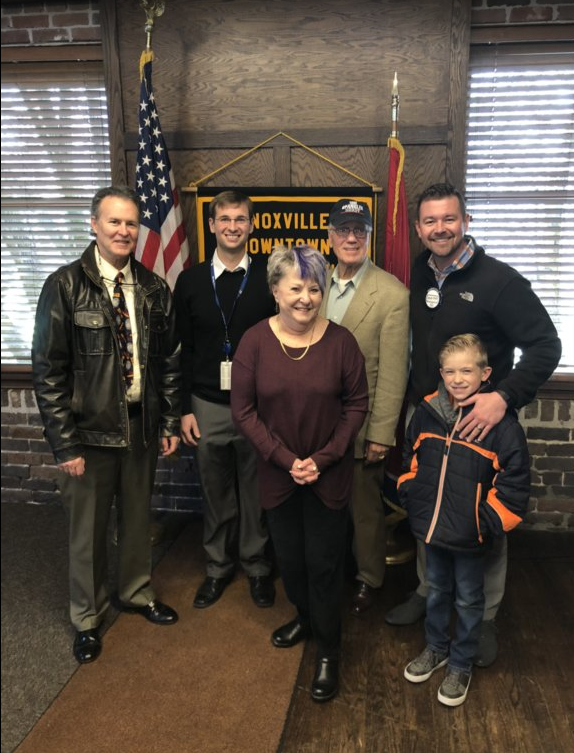 Benjamin Heath | TVA | March 14th
This week we had Benjamin Heath PE, with TVA who gave us a quick copy of all that TVA does to include control flood damage, create power, clean air, make our river navigation possible, hydro power and recreation facilities. We spend most of our time making fun of them, but I think we would miss them if they were gone. They are government owned and don't pay taxes, however, they put a lot of money out in various other ways. I think we should keep them.
Report on the board meeting: The board voted to fund a GoTalk machine for a child with autism who is non-verbal. A bottle of Irish whiskey was left over from our St. Patrick's celebration and will be added to the silent auction or brown bag items at Oktoberfest. 67 people attended, and it was considered a success. John Kerr sponsored the band.
Speaking of John Kerr, he was awarded a Lifetime Achievement Award from Sertoma and I have it on good authority this happens very seldom.  He is a great addition to our club and makes all of us look good!
We're off to Keeneland on April 19th. Depart 7:45 Ingles Parking lot, on Emory Rood in Powell. Cost is $55/person-  includes bus, tip to driver and entrance.  Payment is due March 25. Send to: Matt Martland 8108 Chesterfield Drive, Knoxville 37909
ESPN Bracket: Group Sertoma Club 2018, Password Better Vols, You pick your user name.  For more information on either or both, check with Jacob Tippens and Matt Hall.