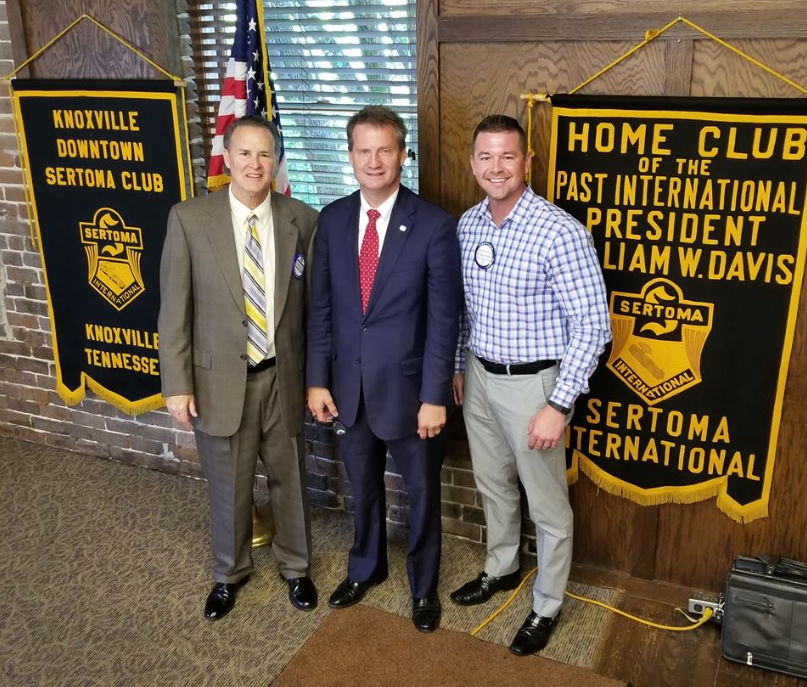 Mayor Tim Burchett | September 27th
Matt Hall is responsible for bringing our county mayor to us. I think we should start a petition to keep him as mayor, he has done an excellent job and done it all without raising taxes. Not everyone is pleased with his progress, he get sued on a regular basis, top is 3 times in one day and gets death threats on occasion. However, he has built 2 new schools, spent 3.5 million on paving, managed a raise for deputies; and reduced the work force by combining services.  When entertaining persons considering relocating their business to Knoxville he takes them to Wrights Cafeteria;  that way they get some good hometown cooking and get to meet people they will be working with.  He says Knoxville and the people sell themselves. He plans to run for congress and personally I wish him luck.
Grid pick:  This is getting harder every week, seems we had a five-way tie but the winner with 10 out of 10 – Al Gill.  We had 1.5 visitors; Matt brought his wife Sasha and our newest Sertoman in training  baby daughter Adalyn.
According to my list Caroline Grimm is responsible for our speaker for next week and either a) she didn't want me to know who it is going to be or b) she forgot and she doesn't know who it will be.  Let's all show up and find out together.
Mark your calendars: On the 18th of October we will be meeting at the Southern Railway building. That will be the Wednesday after Oktoberfest.  Getting close!