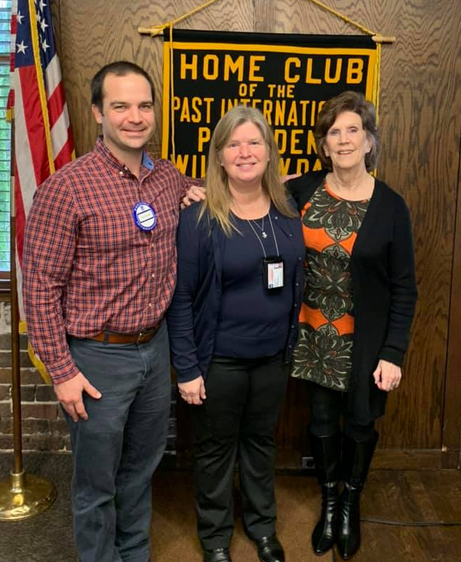 Esther Roberts | Knoxville Police Department Chaplain
Knoxville Police Department Chaplain
Our speaker, Esther Roberts is the total package. She is an attorney, lives on a farm and among other things has a horse, and in her free time she volunteers with the Knoxville Police Department as a chaplain.  They (Knoxville has 40) work on a 24-hour shift and is assigned according to the need. She rides in an unmarked car and does not wear a uniform; she does have a badge which identifies her as a chaplain (back in the day I printed those).  Seems Knoxville has a stand out program for our chaplains, so much so that they are invited to go to other cities to help other cities to set up their programs.  The city maintains two chaplains at every ball game "just in case" and they are called to every car accident or fire where there is life lost.  Each person is required to have sixty hours of training.
Ms. Roberts has also written a book, My Friend Sam. This was about a horse she purchased as a teenager and says she taught her lots about being a person.
##################################
Tuesday, 2/12 is the Downtown Sertoma Club board meeting.  Attending a meeting is a requirement if you are going for a GEM award and besides that you get to see the "inner" workings of the club.  Another reason is they are mostly fun, you really get to know the persons that make all the plans for the rest of you. Come join us, you buy your own dinner, drink, it last about a hour and a half and is time well spent.
##################################
Grid Pick:  With 10 out of 10 – Matt Hall.  What do you guys do in your spare time?
Marianne didn't have the speaker confirmed so we'll just have to show up and be pleasantly surprised.  She has done an excellent job up until now, so I won't even yell at her.