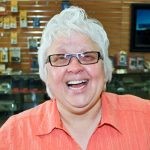 Sandra Clark | Knox TN Today | August 16th
Sandra Clark, introduced her latest publication KnoxTNToday.com. Formerly with the Halls Shopper which came to be just "The Shopper" and spread out to Fountain City, Powell and several surrounding areas.  She sold these publications to Scripts in 2005 but continued to be the go to person for editorial and content until they decided they could do all this without her.
She hopes to beat out the Sentinel at the one-year mark. It would be nice to have a "local paper" again.
I worked with her for a couple of years until she decided she could do it all on her own and she was right!  She was also a state legislator for several years and a real fun person to spend time with. She brought one of her partners with her, Shannon Kerry. Shannon got her introduction to newspaper reporting when Sandra sent her out to investigate a "lost chicken".   I think it's safe to say the Sentinel has their work cut out for them.
Report on the board meeting:  The bad news is the dues are going up.  $180 for regular members, $160 for lifetime and I failed to get the others.  As most of us fall into the first two categories The increase will take effect in October. They decided to donate to the veteran's foundation and we will receive some type of recognition.  Speech and Hearing are hosting a fund raiser on October 27 and we will most likely have a table at that event. Our major fundraiser, Oktoberfest is scheduled for October 13.
Mike Simpson made Matt Hall an official member of the club.  He was presented with a pin and officially made a member in good standing.
Next week:  Our speaker is Becky Ashe, principal of L&M STEM Academy. She spoke when it first opened and she is going to give us and update.